The help desk supporting your staff is the difference between having a happy and productive team and one who is unmotivated and frustrated.
"As technology becomes more critical to business operations, the success of a modern organization depends on the satisfaction of its users and the reliability of its technology," says Donald McMahon, Director of Managed Services for Complete Network.
This means that you need a help desk team that can ensure smooth day-to-day operations and deliver consistent service quality. In fact, 86% of companies said that having access to reliable help desk services improved their productivity.
However, running a help desk that consistently meets all of your performance benchmarks is no easy feat.
While veteran IT service providers make it look effortless, a competent help desk operation requires highly skilled IT personnel, impeccable communication, attention management, and a commitment to customer satisfaction.
In this article, we'll explore five IT help desk best practices that you should consider when looking for a dependable help desk partner for your organization.
Find a Partner Who Follows Every IT Help Desk Best Practice

Support your employees with reliable help desk services from Complete Network.
Learn More
The Differences Between an IT Help Desk and a Service Desk
While there are some notable similarities between a "help desk" and a "service desk," far too many organizations wrongly use the terms interchangeably.
Broadly speaking, both desks fall within the scope of ITSM, which is short for IT service management. This term refers to a set of procedures and actions that tech support teams implement to assist users and maintain their IT infrastructure.
What is a Help Desk?
A help desk team is generally tasked with resolving immediate IT issues through troubleshooting, diagnosis, and repair.
Among frequent problems addressed by a help desk include lagging performance of machines, hardware malfunctions, software bugs, login difficulties, and network connectivity issues
Tech departments operate help desk software and ticketing systems to assist team members in organizing workflows and operational processes, delivering an excellent customer experience. Generally, quick response times and consistent resolution rates being the primary goal.
Many help desks use a tiered system, where lower tiers answer basic questions about software, sometimes through AI and automation. If a client's questions require more specialized support, their issues can be escalated to higher tiers of technicians.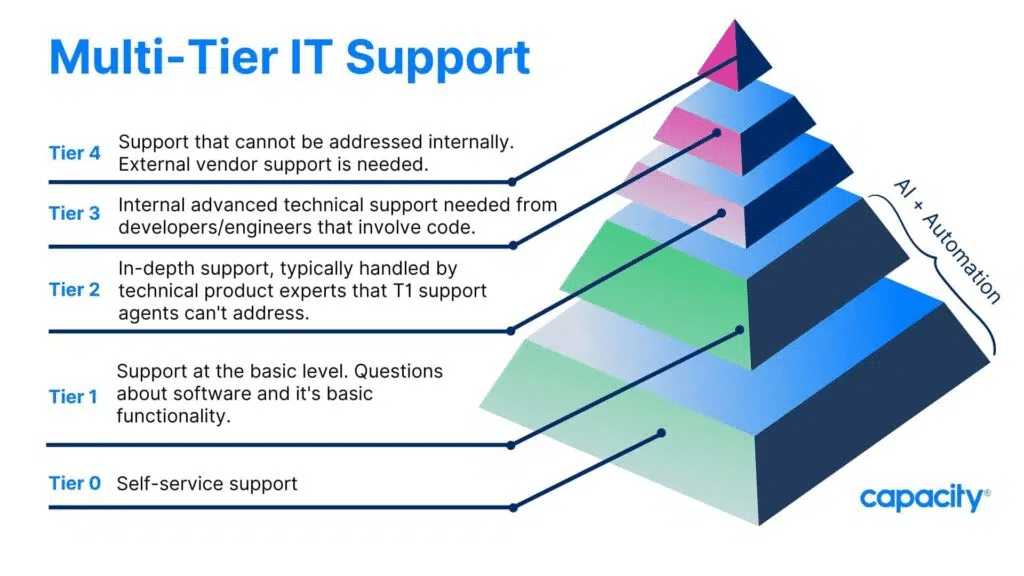 Source: Capacity
What is a Service Desk?
Service desks differ from help desks, as they provide support beyond break-fix situations. The primary point of contact is often a service portal for users who need assistance in answering IT-related questions and inquiries.
Whereas help desk teams primarily focus on reactive support services, service desks are proactive in providing a broader range of IT support, such as:
Training and support materials that give users the information they need to effectively use your business technology
Handling requests from users for access to new technology or software, upgrades, or changes to existing services
Logging, triaging, and prioritizing service requests, as well as coordinating with other IT teams to fulfill the requests
Developing a repository of information, often a corporate knowledge base, to assist users in troubleshooting and resolving issues on their own
Delivering regular updates to customers and end users regarding notable system changes, upgrades, and events
The Top 5 IT Help Desk Best Practices
When it comes to running a productive help desk, there are no magic formulas or hidden secrets, but there are certainly best practices and guidelines that top-tier help desk teams follow to maximize success.
Following these five IT help desk best practices outlined below will help you operate at peak efficiency, meet the needs of your users, and stay up-to-date with the latest technologies.
Best Practice #1: Start With Good People
Building a top-notch help desk experience begins with hiring exceptional talent. However, many companies struggle to find potential candidates for IT jobs due to the widespread talent gap plaguing the tech sector.
There is huge demand for technical talent, to the point where the demand for IT professionals is projected to increase by 21% between 2021 and 2031.
Therefore, the key to finding good tech workers starts with differentiating your company so that top talent is naturally attracted to your organization.
Here are some ways you can accomplish this:
Emphasize a positive work culture
Create clear job responsibilities and expectations
Provide ample opportunities for growth and development
Invest in ongoing training and development programs to ensure that employees excel in their roles
Best Practice #2: Build and Implement a Service-level Agreement (SLA)
Your help desk SLA is the crucial contract that establishes the order of business between your help desk team and the end users.
Such an agreement helps to guarantee that all parties have a clear understanding of their roles and responsibilities and that your help desk can meet users' needs and expectations.
Your SLA should outline parameters, such as the quality of service to expect, the timeframe in which service is to be delivered, and the channels through which support will be provided.
Best Practice #3: Measure and Track Key Performance Indicators
A help desk's effectiveness is directly tied to the quality of its service. Monitoring and tracking performance is how help desk managers can guarantee that their team is meeting the SLA and delivering excellent customer support.
There are an abundance of KPIs to choose from to assess the success of your help desk operation. Some popular metrics include:
Cost-per-Contact: The cost-per-contact metric determines the total costs to resolve a user's complaint. Costs include labor, training, equipment/software replacement, and third-party services or tools.
Ticket Backlogs: A backlog of unresolved tickets may suggest that more personnel are needed or that the issues are more complex than anticipated.
Rate of Transfer: When the transfer rate is high, it may be necessary to evaluate the organization's internal communication protocols and departmental roles to ensure that users are being directed to the appropriate support channels.
Response Time: Your first response time (FRT) is the time it takes for a help desk agent to respond to a user's request for assistance. It's vital to minimize your FRT to prevent customers from feeling ignored or frustrated.
Resolution Time: The amount of time it takes to resolve a ticket, from the moment it's opened to when it's closed, is known as the resolution time. Your resolution time will be influenced by factors, including the complexity of the issue, the number of team members, and the ticket volume.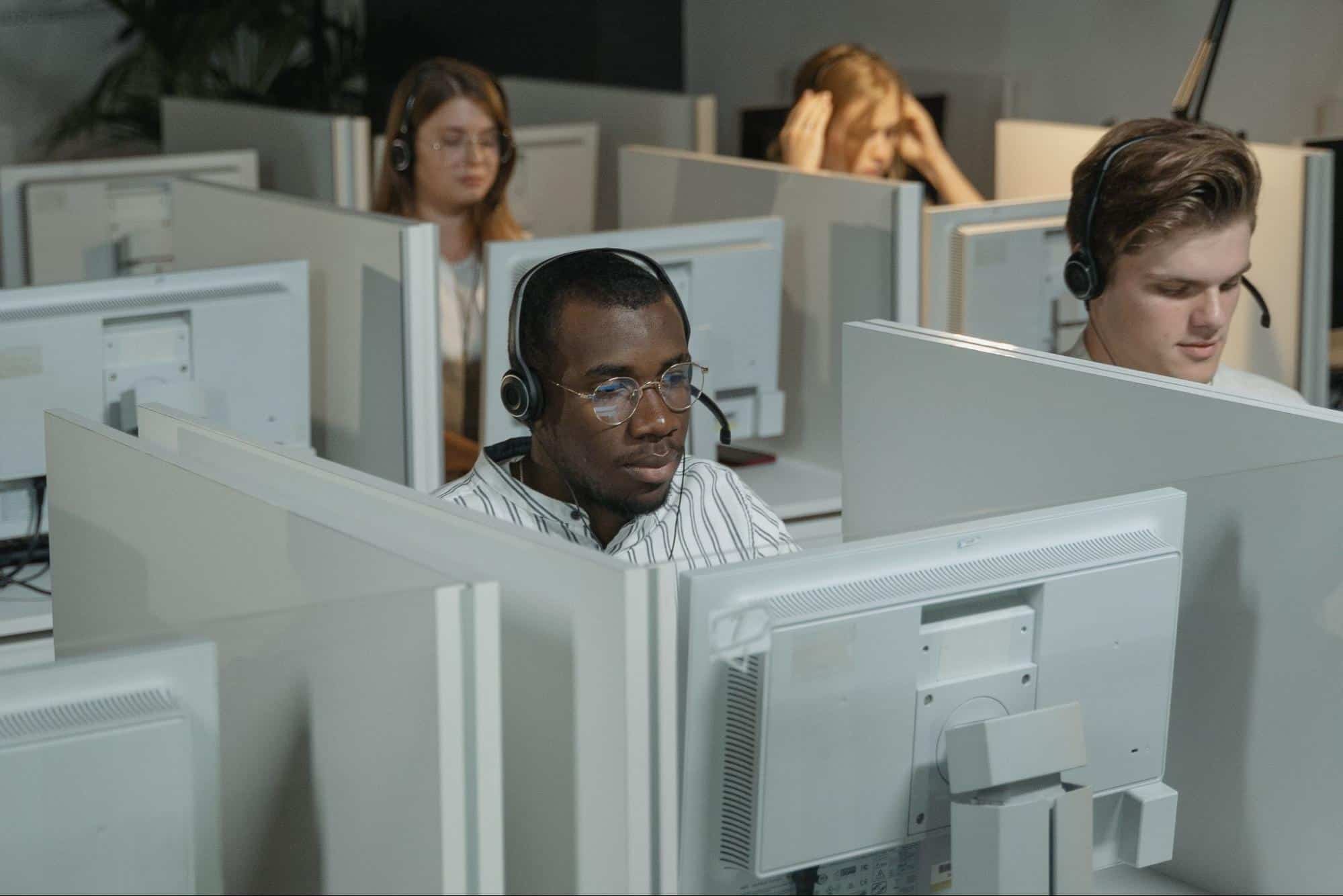 Best Practice #4: Encourage Collaboration and Training
Encouraging collaboration and training is another best practice for IT help desks. Collaboration can help improve communication and information sharing within the team, leading to quicker and more effective resolution of issues.
For this reason, it's important for help desk managers to establish a culture of teamwork and motivate team members to share their findings and expertise with each other.
To achieve this, consider scheduling regular team meetings, collaborative problem-solving sessions, and knowledge-sharing sessions.
Best Practice #5: Transparency With Clients
It's critical to keep users informed with regular updates regarding the status of their support requests. Even if it's simply to let them know that their issue is being worked on, this can help build trust and assurance in your help desk team.
Be sure to communicate any limitations or setbacks early and set clear, realistic expectations to avoid confusion or misunderstandings. This will instill confidence in users and create a more positive experience for everyone involved.
Factors to Consider Before Selecting Your IT Help Desk Partner
Choosing the right help desk service provider to partner with for your organization's help desk duties can be a critical decision that improves the success rate of your IT operations.
When searching for a partner, one good place to start is by asking peers in your industry for recommendations or referrals. Another option is to search online for reviews of different MSPs in your area.
Take care to deeply consider important factors, such as the provider's experience in your industry, expertise with similar business infrastructures, and overall track record of success.
Also, ask about the size of their help desk service operation and find out about their hours, average response time, escalation procedures, and SLAs.
Key questions to consider asking include the following:
What types of issues does your help desk typically handle?
How do you ensure prompt and effective resolution of issues?
Can you provide examples of how your help desk has helped other clients in similar industries?
How do you measure and report on the performance of your help desk?
Do you offer any additional services or support beyond traditional help desk duties?
How do you handle client communication and provide transparency throughout the support process?
Ultimately, choosing the right MSP help desk partner will assure that your organization's IT functions efficiently and effectively while freeing up your internal team to focus on more strategic IT initiatives.
Interested in learning more about helpdesk support services? Check out these blogs:
Choose an MSP That Follows Every IT Help Desk Best Practice
Looking for a help desk partner with a rigorous commitment to customer service? The Complete Network team has been helping small and mid-sized businesses for decades, earning consistent praise and five-star reviews for our speed, friendliness, and reliability.
For more information about our IT help desk services, contact us today to schedule a free consultation with our team.