The IT procurement process is far more complex than it sometimes appears. Sure, on one level, it's just sourcing and buying products and services. But isn't playing golf just the act of hitting a ball with a club?
The reality is that IT procurement is a strategic game that requires careful planning, meticulous analysis, and savvy deal-making. At Complete Network, we see it as a series of steps focused on obtaining and deploying IT resources, ensuring consistent alignment with the organization's strategic direction. But what is IT procurement? We'll discuss that in this blog!
"Success in IT procurement can unlock innovation, strengthen your bottom line, and provide seamless integration between your technologies and business functions," says Jeremey Wanamaker, CEO of Complete Network. To achieve these goals, however, there are important IT procurement challenges you need to overcome first.
The Challenges of IT Procurement
What is IT procurement? IT procurement refers to the process of acquiring hardware, software, and other technology-related goods and services needed to support an organization's information technology infrastructure and operations.
Key challenges in the IT procurement process involve managing convoluted workflows, change management, unnecessary process errors, and risk mitigation. Let's discuss.
Convoluted Workflows
We find that overcoming resistance to adopting e-procurement software is a challenge for many companies. Nevertheless, embracing digital transformation leads to less convoluted workflows in the procurement cycle. This unlocks efficiency, transparency, cost savings, and streamlines supplier management.
Unnecessary Process Errors
The best procurement teams aren't those who can secure the lowest prices or negotiate the most favorable terms. The best teams are those who know how to steer clear of common IT procurement process errors such as:
Continuing to use underperforming vendors
Not fully grasping the details of a contract
Over-relying on manual data entry and record keeping
Working with suppliers who don't meet compliance standards
Buying before fully considering strategic alignment
Failing to consider long-term effects of commercial terms
Muddling purchase orders with purchase requisitions
Change Management
Procurement teams aren't the only staff members who will need to adapt to transformation. When you decide to invest in new technology goods and services, you'll need to familiarize the IT team with the new procedures. The goal is to quickly get staff up to speed as fast as possible without sacrificing security, quality of service, or customer satisfaction. This will necessitate reskilling and upskilling initiatives to assist employees in acquiring the necessary knowledge to operate the new hardware and software systems.
Risk Mitigation – IT procurement managers have a lot on their plate, and risk management and mitigation are on the top list. A good procurement manager knows that good risk mitigation involves:
Watching out for fraud
Accurate order forecasting
Thoroughly vetting suppliers
Predicting supply chain disruptions
Handling price instability with finesse
Looping all departments in on key buying decisions
Delineating between direct and indirect procurement
Avoid IT Procurement Challenges with Complete Network
The Benefits of Effective IT Procurement
Did you know that over 92% of G2000 organizations outsource their IT operations and procurement practices? Effective IT procurement is the difference between leading your field and languishing in the pool of ordinary companies. To further drive this point home, let's explore the four benefits of an IT procurement process that's executed well.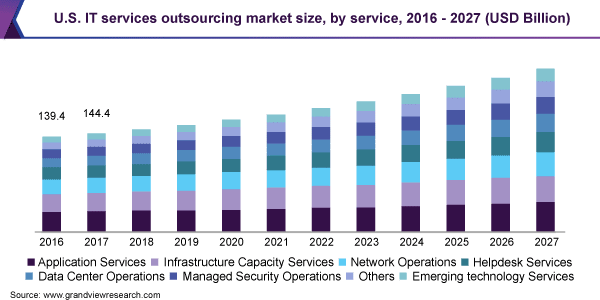 Image Credit: Grandview Research
Streamlined Budgets
Good procurement best practices empower companies to negotiate better contracts, establish closer vendor/supplier relationships, and use economies of scale to secure discounted prices. All of these efforts compound into substantial financial savings. Moreover, because effective IT procurement brings about greater transparency, unnecessary overspending, overbilling, and overbuying are eliminated with greater consistency, resulting in additional savings.
Greater Innovation
Effective procurement strategies birth innovation. Since no single company has all the in-house resources and expertise required to drive innovation on its own, which means that sourcing and procuring from potential vendors is the solution.
Companies that don't do information technology procurements well will often rely on research and development teams to source innovations. On the other hand, companies that do procurement effectively are aware that procurement professionals (not research engineers) are the people with the competencies needed to avoid bottlenecks and develop robust supplier relationships.
Added Resiliency
Resiliency in IT procurement means accounting for unexpected conditions such as market volatility, vendor risks, geopolitical uncertainty, natural disasters, and the impact of emerging technologies. Consciously thinking around the corner for viable strategies to deal with these potential hiccups and their consequences grants your organization a significant competitive advantage over those who don't.
Regulatory Compliance
Meeting regulatory compliance standards is a common challenge faced by most businesses operating in regulated industries. Working with suppliers and vendors who legitimately share your organization's interests can help overcome these regulatory burdens.
How? The answer is simple: Effective procurement leads to higher-quality merchants who will possess the compliance expertise to furnish goods and services to keep you operating within all rules and regulations.
Master Your IT Procurement Strategy with Complete Network
Learn More
Elements of Effective Procurement Management
The previous section deals with "why" you should care about establishing effective IT procurement practices. Let's now look at how you should approach implementing your IT procurement for the best results.
Planning – Procurement planning involves strategizing and organizing the process for acquiring technology goods or services to meet the company's ultimate end goals. The primary aim during the planning stage is to clearly outline the businesses' needs, justifications, specifications, and timelines.
Vendor Selection – The vendor selection process is when potential suppliers or vendors are carefully evaluated (or reevaluated in the case of existing suppliers/vendors) based on factors like quality, cost, reliability, supplier relationships, and capability to fulfill specific needs.
You'll rely on the discovery from the planning stage to:
Solicit bids through RFI, RFQ, and RFP
Shortlist the most qualified vendor
Check the vendor's references, financials, and company culture
Negotiate deliverables
Contract Negotiation – Contract negotiations regarding products or services allow organizations to secure favorable terms, competitive pricing, establish a clear payment process, and align supplier obligations with your specific business goals. In addition, negotiations help mitigate risks, ensure compliance and quality standards, and lay out steps for dispute resolution.
Order Validation – Order validation minimizes the potential for delays, rework, or unnecessary expenses, enabling more efficient procurement operations. The goal is to guarantee that purchase orders are accurate, complete, and aligned with predetermined terms, conditions, and agreements.
Record Keeping and Analysis – Procurement leaders who want to improve their organization's procurement process must first collect and analyze key purchasing metrics. Any decision made without consulting this information beforehand is more akin to buying based on "gut feeling" rather than data-driven decision making. Some common KPIs to consider include:
Procurement ROI
Price Competitiveness
Rate of emergency purchases
Supplier lead time
Cost per invoice and PO
Supplier defect rate
Vendor availability
PO and invoice accuracy
Check out these additional resources to learn more about the importance of having an IT procurement strategy:
Complete Network – 20 Years of IT Strategy, Security and Support
The Complete Network team has been helping small and midsize businesses manage their IT procurement strategies for over two decades, earning consistent praise and 5-star reviews for our transparency, service quality, and reliability.
Could you use help formulating a procurement strategy for your business? Contact our team [email protected] or 844 426 7844 any time. We're here to help!